Details of G series Heli 2-3.5T forklift
This lift truck is equipped with high performance engine to meet EU EC and USA EPA new regulations.
The core components such as gearbox and drive axle are made by ourselves, and the key components are imported, with low failure rate and reliable quality;
Using cast steering bridge, good performance, high reliability and long life;
The lifting system is equipped with a buffer function as standard, so that the goods fall smoothly and the operation is safer;
Equipped with LED energy-saving lamps, with high brightness, low energy consumption and long life;
The modular electrical system with IP56 protection level is adopted, which is safe, reliable and convenient to maintain;
The main structural parts of the truck have high safety factor and strong carrying capacity
Equipped with a large handle on the car, the control handle is placed on the right, the reversing and light handles are arranged in a car style, a small-diameter steering wheel,
and comfortable to experience;
Equipped with automatic engine monitoring system, driver presence sensing system, parking brake safety protection device, improve the truck's ability to prevent and control
performance of the truck;
Optimized arrangement of the channelt steel, cylinder and chain of the mast, with a wide front view;
The style of the instrument panel is uniform with that of the whole truck, with beautiful appearance and strong affinity.
Workplace: Widely used in factories, warehouses, stations, docks, airports, ports, etc. for loading, unloading and handling of packaged goods. After being equipped with othe
loading and unloading operations of bulk cargo and other unpackaged goods.
1. Washer  H24C1-02011
2. Nut   B4016-00010
3. Collar   22671-02001
4. Bolt   B0230-10100
5. 4JG2 Engine    H23U1-02001
6.  Rubber    HN231-02011
7. Plate    23651-02001
8. Air cleaner ass'y   G29Z1-00301
1. V2403 Engine  G15X1-00401
1. V2403 Engine  HF291-00201
2. Air cleaner ass'y   GH231-00201
3. Bolt   B0230-24110
4. Shim   STAA36-600-1
5. Washer   H2A71-02041
6. Nut   B7720-00024
7. Bolt  B0530-12025
8. Washer,lock   B5050-00012
9. Engine support R.H.   G2H31-00401
10. Engine support L.H.    G2H31-00501
1. V3600 Engine HM211-00201
2. Air cleaner ass'y GP211-00101
3. Bolt B0230-24110
4. Shim STA36-600-1
5. Washer H2A71-02041
6. Nut B7720-00024
7. Bolt B0530-12025
8. Washer,lock B5050-00012
9. Engine support R.H. G3H31-00501
10. Engine support L.H. G3H31-00401
1. Nut   B4016-00010
2. Bolt   B0230-10100
3. Plate   23651-02001
4.Washer   A22A1-02041
5. c240pkg Engine   H2N71-00101
6. Air cleaner ass'y    G2E51-00301
7. Rubber   HN231-02011
8. Rubber   HN231-02021
9. Collar   22671-02001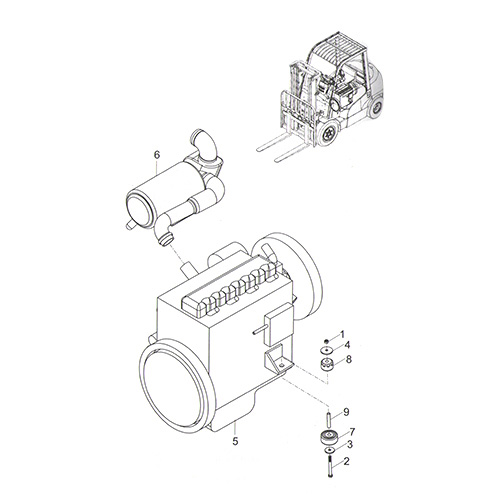 1. JX493 Engine E24C1-00001
2. Air cleaner ass'y G9F71-00201
3. Washer A22A1-02041
4. Plate 23651-02001
5. Fan F390-28-52-7
6. Collar 22671-02001
7. Bolt B0230-10100
8. Engine support L.H. H87A1-00401
9. Nut B4016-00010
10. Engine support R.H. H97Y1-00221
1. CA498 Engine G9E51-00201
2. Air cleaner ass'y G9E51-00301
3. Bolt B0230-10100
4. Plate 23651-02001
5. Collar 22671-02001
6. Rubber HN231-02011
7. Washer A22A1-02041
8. Nut B7720-00010
9. Rubber HN231-02021
10. Engine support R.H. G9E51-00401
1. 4TNE98 Engine HT271-00201
2. Air cleaner ass'y GT291-00201
3. Bolt B0230-10100
4. Shim 23651-02001
5. Bushing 22671-02001
6. Rubber HN231-02011
7. Rubber HN231-02021
8. Washer A22A1-02041
9. Nut B4023-00010
10. Bolt B0330-10025
2. Bracket G27Z1-02011
3. Duct G2H31-02011
4. Hose G29Z1-02011
4. Hose G2E51-02001
7. Air cleaner H99Y1-00311
9. Muffler G2H31-00301
11. Pipe G2H31-02051
2. Bracket G27Z1-02011
3. Duct G2H31-02011
4. Hose GH231-02001
7. Air cleaner H99Y1-00311
10. Plate G2L31-04011
11. Muffler G2H31-00301
13. Pipe G2H31-02051
2. Bracket G27Z1-02011
3. Duct G2H31-02011
4. Hose GH231-02001
7. Air cleaner H99Y1-00311
10. Plate G2L31-04011
11. Muffler G2H31-00301
13. Pipe G2H31-02051
1. Air filter assy G9E51-00311
2. Bracket G27Z1-02011
3. Duct G27Z1-02021
4.Hose G9E51-02001
1. Bracket G27Z1-02011
2. Muffler G2H31-00301
3. Air cleaner (air filter) G15X1-00301
4. Duct G2E61-02011
5. Duct G2H31-02011
12. Pipe G2H31-02051
1. Vent-pipe HT271-02021
6. Duct GT291-02001
7. Air cleaner H99Y1-00311
8. Duct G2H31-02051
11. Bracket G27Z1-02011
12. Duct G2H31-02011
13. Muffler G2H31-00301
14. O-ring HT271-02061